Have you ever tried the "involtini di melanzane"?
Involtini in Italian means rolls and the origin of this recipe is actually unknown but it definitely falls into the category of "poor dish" because of its very simple ingredients. Back in the days there was no fancy food and this was tasty and everyone could actually make it.
It is also a preparation that tells us one more time how much we use aubergine/eggplant in this season in Sicily, to the point that I call it the Queen of our Summer tables.
In terms of the making of the rolls, this is a recipe that needs quite some time (around 3 hours), but you can always split it in two parts and do the frying bit one day, and continue with the rest the following day. The result is a succulent and mouthwatering dish that you can offer warm or cold, as starter or side dish along with a rich salad.
Ingredients & Preparation for roughly 18-20 rolls:
3 big eggplants – 200 gr breadcrumbs – extra virgin olive oil – 2 tbs pine nuts – 2 tbs raisins – 300 gr. tomato sauce – a bunch of fresh basil – 100 gr. grated cheese of your choice (I would use either pecorino or caciocavallo) – 20 pieces of fresh caciocavallo or primosale (one per roll) – salt & pepper
Step 1: The Melanzane
Rinse the eggplants, cut them in long slices (roughly 2 cm thick, but be very careful because you do not want them to be too thin otherwise they will break while frying.)
Optional step – put the slices in a colander with salt on top and leave them for 10-15 minutes; then rinse them and dry them well with a kitchen towel.
Fry them on both sides in hot olive oil and place them on some kitchen rolls to absorb the exceeding oil and to cool down.
Step 2: The Stuffing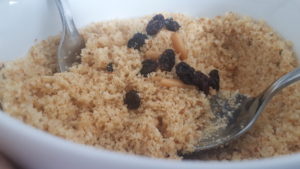 In a bowl mix the breadcrumb with the grated cheese, the pine nuts and the raisins.
Add salt & pepper and about 4-5 tablespoons of the passata to make all the ingredients stick together more easily.
Cut your hard cheese in 20 small chunks.
Step 3: The Rolling and Baking
Prepare your baking tray, ideally a glass one and put some tomato sauce at the bottom.
Now this is the delicate bit: take a slice of melanzana at a time, put a full tablespoon, or 1 and half of the mix in the middle of the slice, place the chunk of cheese in the middle.
Gently roll it up and place it in your baking tray. Do the same with the rest of the slices. Once your tray is completed, pour over some extra tomato passata, add the grated cheese and all the fresh basil on top.
You will be literally ravished by the goodness of this dish!