What is gelo di cannella?
The cinnamon jelly or pudding, or, as we call it in Sicily, gelo di cannella, is the perfect dessert for those who are intolerant or has chosen a vegan food regime.
It does not contain gluten, nor dairies, it's basically made of water, sugar, cinnamon and a bit of corn starch to make it thick.
This dessert, more popular in the eastern side of Sicily is light, fresh and extremely scented with its hints of cinnamon and jasmine. It is a great Summer pudding, especially when you want to offer your guests a lighter alternative to ice cream.
Whenever we speak about spices in Sicily, we bring up the Arabic domination, as the Arabs were the ones who introduced these new flavors to us, among several other products.
The use of jasmine is also very common in the Middle East and we do integrated in desserts, tea and in the traditional ice cream called scorzonera.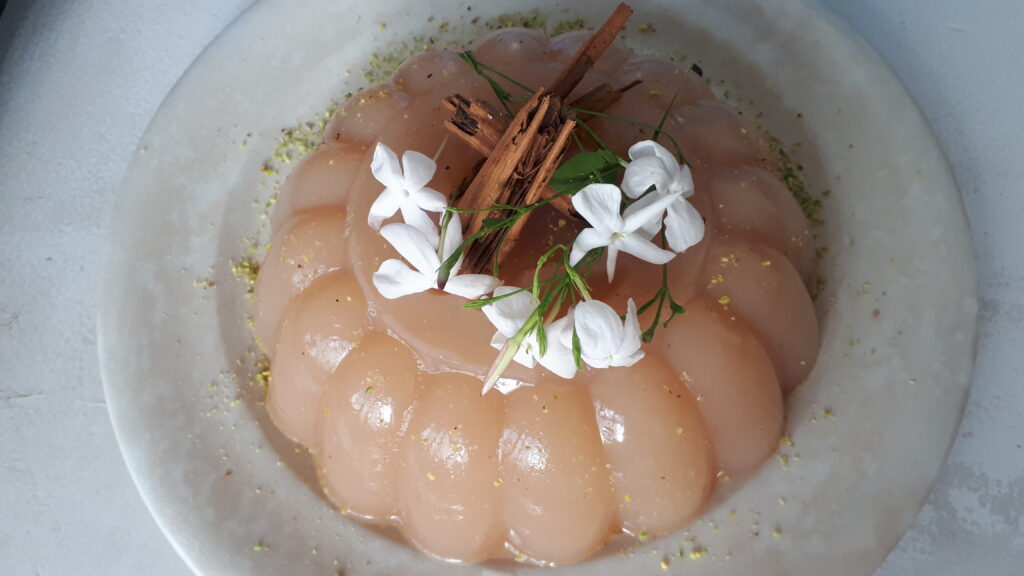 Tips before starting
PLEASE NOTE: In order to prepare your gelo you need to think 48 hours ahead, because cinnamon needs to soak into water for 2 days. If you also want to add jasmine water (as it is optional in this recipe) soak 2 or 3 jasmine flowers in a glass of water.
The rest of the preparation can easily done in 2-3 hours, but also count the hours you need to refrigerate.
Now, let's see which ingredients we need and how to prepare gelo di cannella for roughly 8 to 10 people (depending on how big the portions are):
1 lt mineral water – 60 gr cinnamon in sticks – 100 gr corn starch – 170 gr sugar – 1 glass of jasmine water (optional)
Preparation
Start by soaking your cinnamon sticks into 1 lt of mineral water two days in advance and leave it in the fridge. After 48 hours pour the cinnamon water in a sauce pan and bring it to boil, then leave it to cool down. The water will get a very nice and intense amber color.
While the water is cooling down weight your other two dry ingredients and mix them together.
When the water will be lukewarm, you have two options: either filter it or leave it as it is with the pieces of cinnamon in it.
I filtered it because I prefer the smoothness but if you do love to find a bit of crunchiness in your pudding you can leave the small pieces; (but make sure you remove the big chunks otherwise it won't be nice when you eat it!)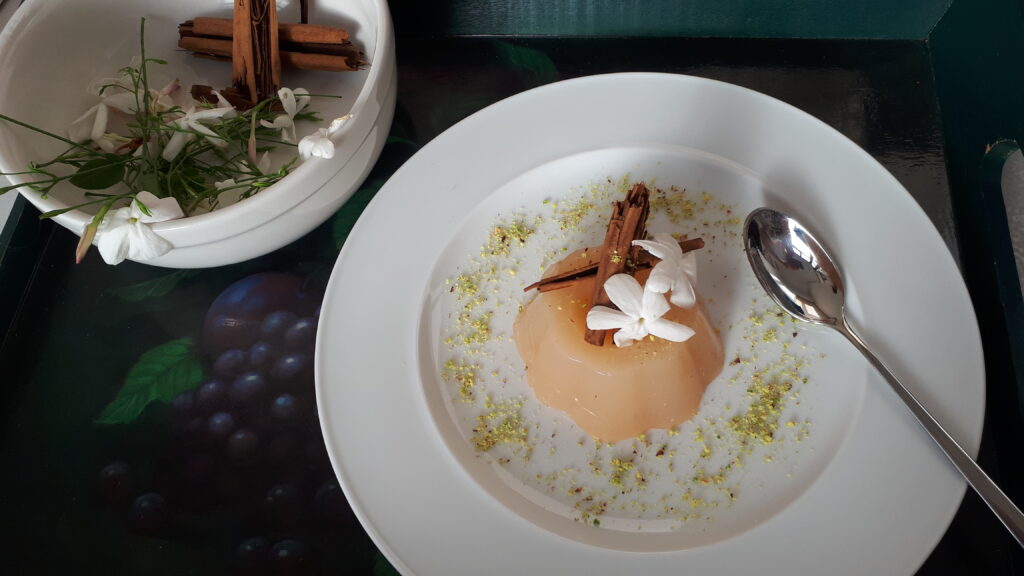 By the way, please don't throw away the cinnamon that you have taken out of the water. You can still use it to aromatize sugar or tea leaves. It will be delicious! Everything in the kitchen can be re-used.
Finally, take your empty saucepan back, put the mix of starch and sugar and gently start pouring the filtered cinnamon water little by little, stirring with a fork or a silicon whisk.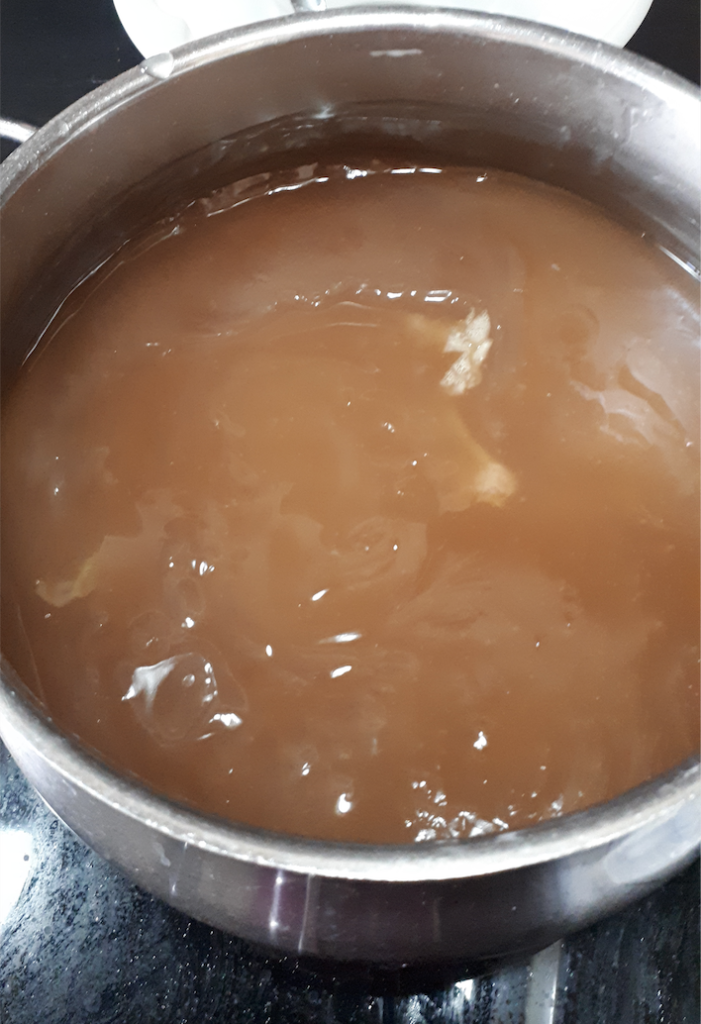 Make sure the powders absorb the water completely without creating lumps.
Once the liquid is all in the sauce pan, switch on the gas on a small heat.
Stir frequently the pudding until it thickens and starts to boil. In the end add also the jasmine water if you have prepared it.
When you see the bubbles it means the gelo is ready to be transferred in its serving bowl or, if you prefer, in single-serve little dishes or small bowls like shown in the pics.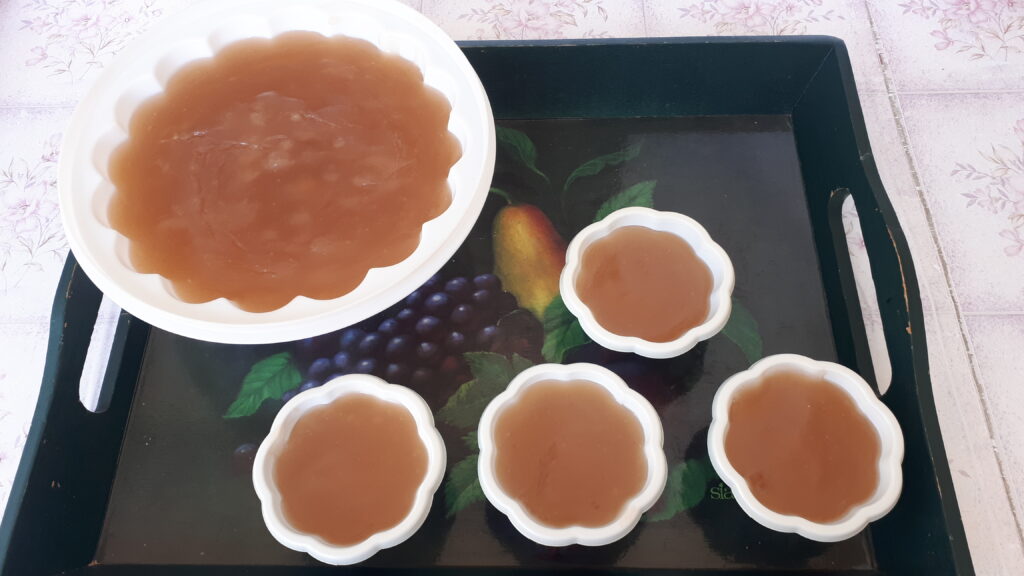 Leave them to cool once again, before entering the fridge like in the pic below.
Then keep them refrigerated for at least 4-5 hours before serving them, because the cinnamon is very refreshing on the palate and is at its best if eaten cool.
Final touches
Garnish with more pieces of cinnamon and jasmine flowers, and a sprinkle of grounded pistachios on top, to have another colorful ingredient on the plate.
It looks so lovely and very refined!
Enjoy this decadent dessert with friends and family on a beautiful summer night and everyone will ask you for the recipe!
Guaranteed! 🙂