With the start of the New Year we always try to change something about our lives, whether is an habit, something we want to fix, or something else we need to start doing.
Somehow we look for novelty, freshness and easiness.
Talking about novelty and freshness there is a person that perfectly embodies these ideas in today's food landscape and is the young and talented Chef, Emilia Strazzanti.
Uk born, but with a Sicilian heritage, Emilia is a rising star in the culinary world, and, I was lucky enough to interview her few weeks ago while she was doing a cooking show at Borough Market in London.
Let's hear what she thinks about this wind of change…
Chef, how do you think the food industry will be shaped in 2020? What will be the main elements that will influence it?
Well… Climate change is proving to be a huge influence in the way we are eating, for the positive! And those around us customers & chefs are making alternative choices to their eating habits, cooking methods and ingredients being bought which help preserve the planet rather than damage it. Natural eating is always a great route to go down, don't over complicate your food!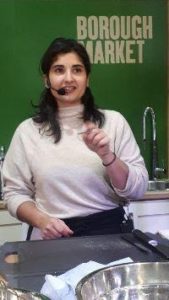 Interesting, … what do you think is the most important element that needs to be part of every dish you cook then?
The understanding of flavours and which flavours should sit next to each other. It's easy to complicate food and disguise ingredients with several herbs and spices but if you find 3 or 4 flavours and ingredients that match beautifully then you should always have a well balanced dish.
Agreed! And what is, in your opinion, the worst misconception about fine dining nowadays?
Small portions maybe? The beginning of my career was spent in many fine dining restaurants and I loved how much I learnt from the great chefs I worked under: the precision and technique that I took away with me. That's how I learnt to appreciate plating smaller portions because the time spent on every single item on that plate meant something and it was to be eaten with precision just like the preparation from the hands of the chef who cooked it.
Any interesting plans for the roaring '20? Let us know which upcoming events you are planning for the months ahead.
Always! We have lots of Sicilian culinary experiences coming up and supper clubs which you can find on our website www.strazzanti.co and always a great idea to sign up to our newsletter where you'll be the first in the know!
This has been terrific! Thanks a lot for taking the time to answer my questions and good luck with all your future projects Chef!