Have you ever tried a bay leaves tea? It is one of the most exquisite flavored herbal tea,  and it has incredible benefits too.
Since the Greeks and the Romans bay has been symbol of glory, peace and protection. The leaves have antioxidant, digestive and anti-cancer properties. Besides, the bay tree is an evergreen, so you can find the leaves all year around.
It's perfect to help you digest if you had a big lunch and you feel too full, great when you have an upset stomach. When I was a child and I had stomachache, for example, both my mum and my grandma would rely on this incredible as well as easy to make tea to help me get through the pain.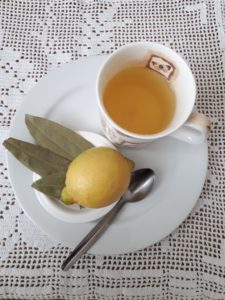 As the pictures show, all you are going to need is: 2 bay leaves and a big chunk of lemoz zest.
How to prepare it – Rinse the leaves and the lemon under running water, then turn the heat on.
In a small pot or a normal kettle (not the electric one) pour some water with these two ingredients together. Let it boil for 7-8 minutes, then turn the heat off and let it set for another few minutes. When you pour it into a cup, it should be very yellow in color.

You can have it plain or add a small teaspoon of sugar. That is a personal choice.
Try this exceptional herbal tea and you will love it!