Which one is gonna win: Sicilian tradition or a bit of food innovation and creativity? Today is all about chestnuts, but there is a tough match in the house: 

Typical "caldarroste" VS Innovative Spongy Chestnut Cake. 
Let me explain.
Sicily is definitely well known for its almond trees and its pistachio nuts on the slopes of Mount Etna, but majority of people doesn't know you can also find several chestnut trees areas in our island, and their exquisite fruits, which are harvested between the middle of September and October, are mainly eaten in the Winter season, starting from November…ish.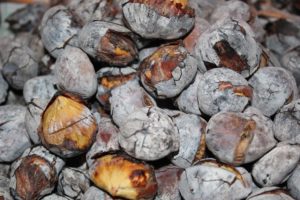 Photo Source: Petraliavisit.it
In this period infact we start seeing the "caldarroste", delicious roasted chestnuts you can buy in the corner of every street. (Also in the rest of Italy are pretty popular.)
The name, which is a mix of two words in Italian (calde and arrostite) literally means "hot and roasted", prepared in an old cilindric semi-open flame oven called fornacella.
You will buy them from the "caldarrostaro", the man will sell it to you in the traditional "coppo", a cone made of either paper or soft cardboard, and because you can find it in the streets, it is considered part of the Sicilian street food (or snack) although seasonal. 

One point for tradition and back to square one.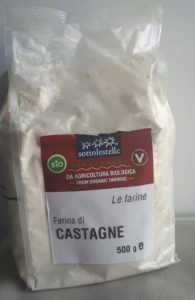 Now let's move on from caldarroste to chestnut flour. 
This type of flour was used a lot in ancient times, but very little today and is a bit of a shame, as you can prepare many dishes with it, from fresh gnocchi to bread and pasta, and of course amazing desserts.
It is a naturally gluten-free product because is made from dried chestnuts, but be careful (if you are celiac) when you buy it, as sometimes they would grind it in the same mills they use for other flours, so it could be "contaminated".
Talking about desserts, few years ago my mom had some chestnut flour that she wanted to try in a new cake and the result was this beautiful spongy treat which up until today is one of my favorite soft cakes of all times.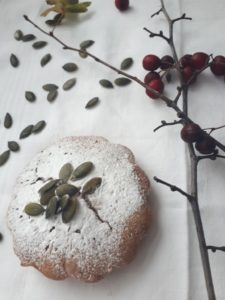 It is extremely tasty and stays fresh for days, if you store it properly in a cool place, but you won't have this problem, (unless you live on your own), because it will literally disappear in minutes. 
You can have it plain for breakfast, with an additional sugar glace on top for your tea-time with friends, or even served with whipped cream on the side for a more scrumptious and luxurious end of a meal. 
Rounded, rectangular or even in mini-cakes shaped, like you can see in the different pictures, it will still look fantastic and more important taste delicious.
Everyone will go (chest-) NUTS! Ah ah ah….


Joke aside, bear in mind that chestnut flour is a bit heavier than white flour, which means that tends to absorb more the humidity from the liquids so if you use it in pureness (like I do) you need to double your liquid ingredients such as eggs and butter. 
Ingredients:


– 260 gr. chestnut flour
– 220 gr. sugar
– 6 eggs to be separated
– 200 gr. butter
– 16 gr. baking powder 
– half glass of milk
– 125 gr white yogurth or vanilla flavor one
*NOTE: In my mom original recipe there were 6 eggs and 250 gr of butter, but no yogurth at all, I decided to reduce the butter and replacing it with the yogurth, which gives that extra moisture. You can also replace it completely by using coconut oil, or margarine of course. I would still use the yogurth with them though. 
Preparation:
*Preheat the oven at 180° degrees.
1. Separate the yolks from the whites.
2. Leave the whites aside and add the sugar with the yolks.
3. Mix it until smooth and fluffy, than start adding chestnut flour and butter (or whatever you prefer), 4. Continue adding the yogurth and the remaining flour until the end.
Don't worry if it looks really thick and hard to mix, that is the flour that absorbs a lot but remember you still need to add 2 more liquids.
5. Lukewarm half glass of milk and pour the baking powder in it. Stir quickly with a teaspoon, until the foam fills the whole glass and while still stirring, pour it  all into the cake mix. Gently fold it with the rest of the dough using a spatula or a wooden spoon.
6. At this point the consistency should be still a bit dense but easy to fold.
7. Whip the whites with a pinch of salt until they are stiff and the fork stuck in the middle does not fall on the side.
8. Gently pour the whites into the cake dough and slowly mix it together from bottom up, so that the whites won't deflate and loose their air. When you can't see anymore white bits in the mixture it means is ready for baking.
9. Butter a cake tin and dust it with some icing sugar (instead of the common flour).
10. Pour all the mix in the tin and place in the oven for about 40-45 minutes.
After 30 minutes just check the centre of the cake with a stick, if it is still very wet but the top is ok, reduce the heat at 150° and cover the top with some aluminium foil.
11. Keep checking every 10 minutes until it comes out perfectly clean.
12. Once is ready take the cake out of the oven and let it cool for half an hour. 
13. Sparkle icing sugar on top (or whatever else you prefer from the options I gave you above); then place it onto a dish, ready to be served. 

Done and dusted!

Let's go back to my initial dilemma then:

Typical Sicilian "caldarroste" vs Modern Spongy Chestnut Cake?

Do you know what? I say… BOTH of them! 
Enjoy!