Sicilian cure meat awarded silver medal
Today I am going to talk about the delicious: MORTADELLA!
As everyone knows this wonderful cured meat is typical of Bologna and the region Emilia Romagna (north of Italy), but during the recent national convention called IMeat, which was in Modena last week, the SILVER MEDAL for best Italian mortadella was actually awarded to a Sicilian gentleman.


Salvatore Bilello is his name, who lives and produce it in his village called Camporeale, in the internal province area of Palermo.
Being awarded a second place from the real expert of the product is an amazing accomplishment so well done to him!
With this great piece of news and with Easter coming in 3 days I thought the best idea was to give you an original antipasto made with this delicious mortadella.
Perfect as a starter for your Easter lunch! It's a SAVORY CHEESECAKE!
Recipe of the savory cheesecake with Mortadella
First, for the decoration I have used only a slice of mortadella and a branch of rosemary with some juicy pomegranates grains placed on the edge of the cheesecake to give it some extra color.
The preparation is incredibly easy, let's start with the INGREDIENTS:
200 gr mortadella – 100 gr apulian taralli (pugliesi) – 100 gr salted crackers – 100 gr butter – 250 gr cream cheese or mascarpone – 2 tbsp brandy or cognac – pinch of salt and black pepper – 100 gr grated grana or partisan cheese (optional).
If you cannot find mortadella where you live, you can swop it with some good thin sliced ham, and for the base, if you don't have taralli use only crackers, the result will be still the same. I personally like the taralli because they are made of olive oil and fennel seeds, so it gives that little extra flavor.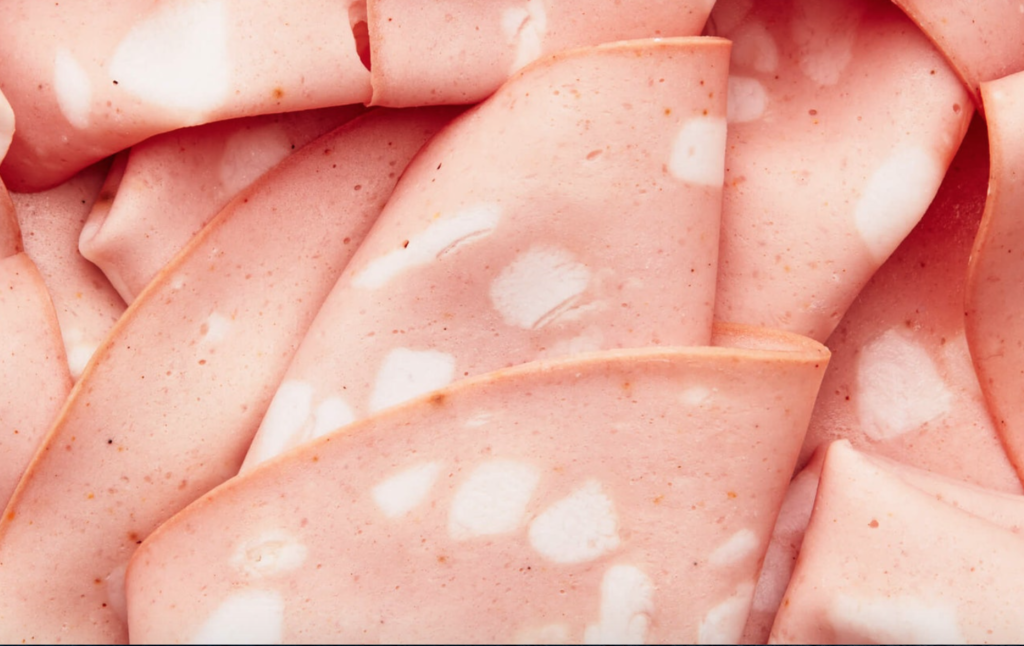 15 minutes Easter starter preparation
Firstly melt the butter. Then, crush the dry ingredients (crackers and taralli) with a rolling pin or using a grinder or a mixer. Add the melted butter exactly like you would do while preparing a sweet cheesecake and place the base directly on the serving dish that you will use on the table.

To be neat I used the disc of a springform cake pan, not the bottom part, so that I could level up the mix without problems. (I hope this is the correct translation for the cake pan, if not here on the right is what I mean.)
Once this is completed, place it in the fridge and start the filling. Using the same grinder or mixer, chop the cured meat first, then add the brandy, the grated cheese and the cream cheese. Blend all together until you get a dense creamy paste, we call it "SPUMA" in Italian. Taste it and adjust with salt and pepper. Done!
You need to be able to spread it easily. If for some reasons is too tick (depending also on the type of cream cheese you are using) you can slightly dilute it with a bit of milk or double cream by eye; (no need of measurements, just common sense).
At this point take your plate with the crackers base out of the fridge (leaving the disc of the cake pan) and place the filling on top using a spatula or a small knife. Once all the mix has been transferred goes back in the fridge, possibly in the coldest part.
Prepare all you need for the decoration 10 minutes before serving it. You can do whatever you want with that, as mentioned before, I used some rosemary and a slice of mortadella, resembling a rose, then I put some pomegranates grains to have color but also an extra crunchiness. Last thing, I sprinkled some grounded pistachios on the grains too. The result was simply amazing!
The flavor was so delicate and you can taste the soft cheese and scented crackers at the bottom, I assure you everyone is gonna love it for Easter: it's original, it's mouthwatering and is also extremely easy, perfect if you want to impress and use your decoration skills!
If you prefer our typical Sicilian TAPAS, as I call them, check my post here!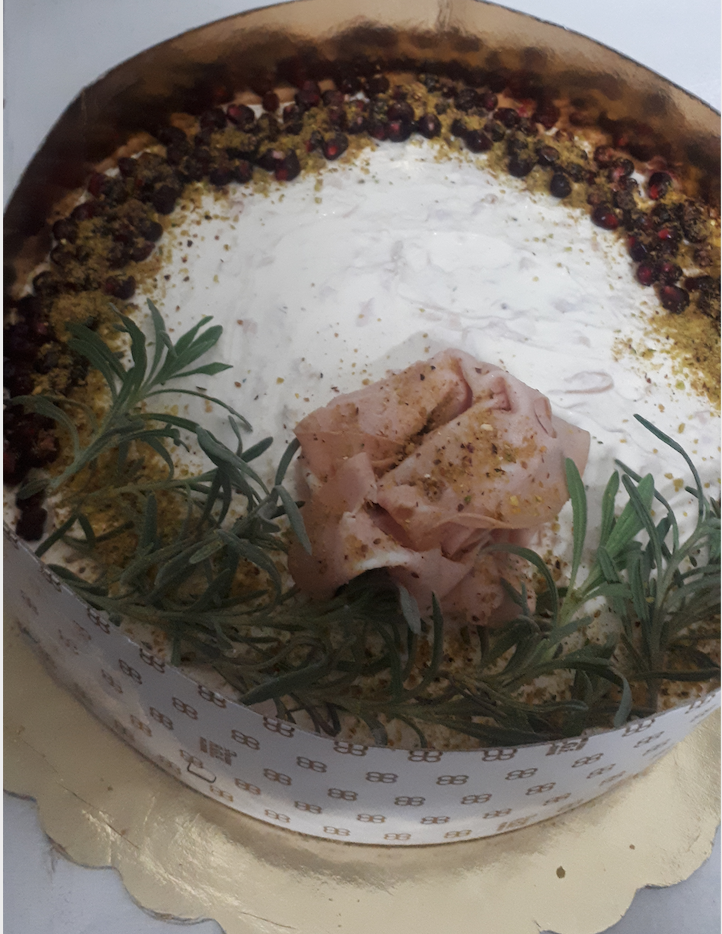 For those who can read Italian here is the newspaper article.